LOFT: Sweaters and Sweatshirts Review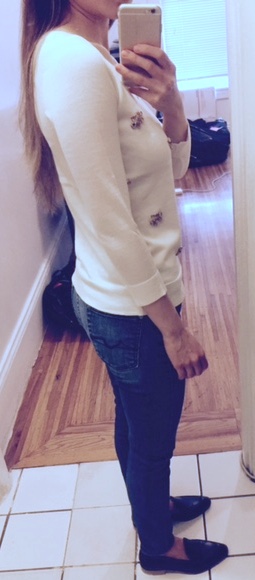 I rely heavily on reviews since I do 99% of my shopping online. Petite sizes are not always stocked in stores and if they are, the selection is limited. I always scan the reviews on the retailer's site looking for someone with similar physical stats as myself. So this is my first review, hopefully it will help you out if you are considering buying any of these items. All the items are XXSP.
LOFT Petite Two-in-One Softened Shirt
armpit to armpit: 17 in. overall length: 27 in. sleeve (unfolded): 21.5 in. shoulder to shoulder: 14 in.
The overall length was much too long on me. The sleeves were also tight in the arms around the biceps which was really uncomfortable. I, however, have larger biceps than most women my height and weight. For some reason, I carry my fat on my upper arms. In addition, I found the boxy fit did not flatter my body, making my waist look like a rectangle instead of an hourglass. I really wanted to like this one since it looked so cute in the stock photo, but it just did not work for me.
LOFT Petite Jeweled 3/4 Sleeve Sweater
length: 22 in. armpit to armpit: 16 in. shoulder to shoulder: 12.25 in. sleeve: 18.5 in.
I have been looking for a jeweled sweater/sweatshirt. This was one of the jeweled tops available on LOFT. I was originally drawn to the off-white color. However, I had the same problem with this top as with the polka dot one above it: the biceps were really tight and uncomfortable. The sweater was also kind of see-through in the bust area. I ended up returning this.
Please excuse the lighting in my room, my light bulb has a weird yellow glow, so I put a filter on the second picture to try and change the color to represent what the shirt looks like in real life.
LOFT Petite Jeweled Sweatshirt
length: 23 in. armpit to armpit: 16.5 in. shoulder to shoulder: 13 in. sleeve: 22.75 in.
My other jeweled option was this jeweled sweatshirt. The fit was better on this item, nothing too tight or too loose. The sweater material is soft and I liked the darker purple color of the jewels. I ended up keeping this item. It fit best of the four tops I tried on.
LOFT Leopard Print Collarless Utility Blouse
length: 24 in. armpit to armpit: 17.5 in. shoulder to shoulder: 14.5 in. sleeve: 22 in.
I really liked the stock photo of this top and I am obsessed with leopard print. However, when I tried it on, I was very disappointed. The top made my chest look huge and my body shapeless. It might be better suited for someone with a smaller bust. But for me, this was a definite return.